Early bird validates until end of October, 2022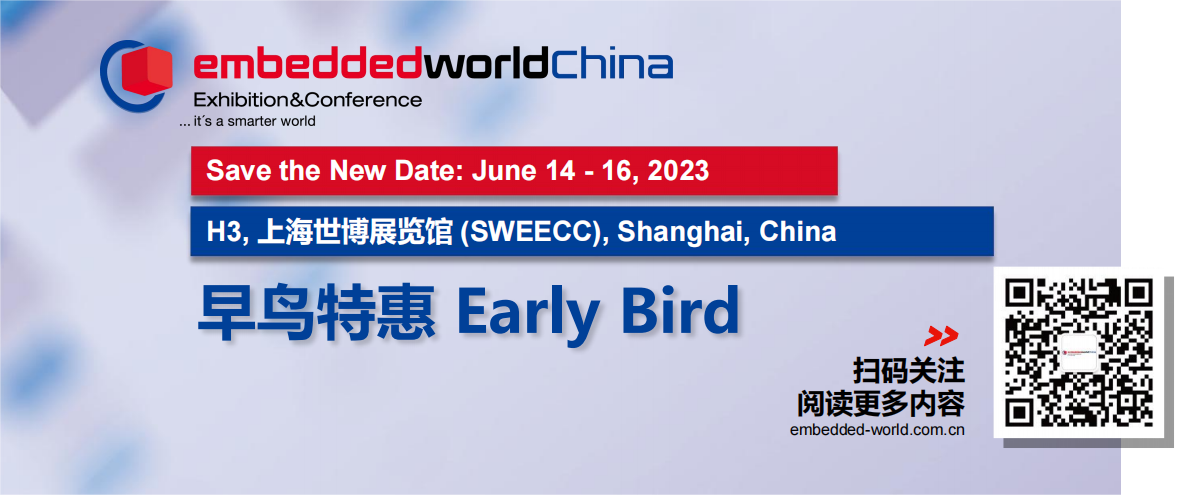 Join us in a smart world in June, 2023, Shanghai
embedded world China 2023
The new date for embedded world China 2023 will be June 14-16 in H3, SWEECC, Shanghai, China. The approximated show area up to 16,000 sqm, with nearly 300 exhibitors, expecting over 10,000 visitors to join 10 more on-site events and keynote speeches.

Established in 2003, embedded world Exhibition&Conference, organized by NürnbergMesse, is the well-known showcasing and interchanging platform of world's embedded industry. By its accumulation of experience and solid resources, the event has become the indicator of global embedded indutry and market trend.

The embedded industry rises rapidly in China, along with the booming digitized intelligent era, the newly merged business type has attracted numerous Chinese enterprises to join. embedded world China 2023 will cover a larger national regions than East China, dedicating to build a reliable service platform for the embedded industry in China.
Early bird benefit validates until end of Oct, 2022
embedded world China 2023
The exhibitor application has launched, as well as the early bird benefit, which has been responded positively, as of today, nearly 30% booths have been booked. Take action now to enjoy the special offer and secure your favorite booth position. Other than those, there's add-on benefits for joint application to embedded world and embedded world China 2023, please contact us for details.
Applied exhibitors:
-MCU/Memory Chips
Chipsea Technologies (Shenzhen) Corp., Ltd.
Dosilicon Co., Ltd.
Shenzhen Hangshun Chip Technology Development Co., Ltd.
Shenzhen Longsys Electronics Co., Ltd.
Shenzhen Mindmotion Co., Ltd.
and more...
- Automotive Embedded Systems
Star Engineering & Consulting
Vector Informatik GmbH
and more...
-Industrial control machine, industrial motherboard
Congatec GmbH
SECO S.p.a.
Vecow Co., Ltd.
Weibu Information Inc.
Yutek Tronic Inc.
and more...
- Display Devices
Data Modul Displays
Suntech Display Technologies
Team Source Display Technology Co., Ltd.
Yes Optoelectronics
and more...
-Test & Measurement and Development Tools
Guangzhou Hongke Technology Co., Ltd.
Rigol Technologies Co., Ltd.
Rohde & Schwarz
Siglent Technologies Co., Ltd.
and more...
-Modules, Modules, Electronic Components
Fannal Electronics Co., Ltd.
Shenzhen Topway Technology Co., Ltd.
and more...
​
4 strengths to secure the participation results
embedded world China 2023
High-quality service platform of embedded industry chain
embedded world focuses on the complete embedded industry chain, from hardware, modules to software and systems, from design & development to application solutions, all will be included in this edition of embedded world China. Moreover, in the "intelligent @ innovAtion" area, exhibitors can have further interaction with visitors through particular demonstrations, showing how innovative and cutting-edge technologies can provide efficient application solutions in practical cases.

20 years of branding and expertise support
With 20 years influence of the embedded world branding in the European and global embedded industry market, as well as professional and quality services, the first edition of embedded world China aims to build an outstanding service platform for domestic embedded industry, and to promote a high-quality industry-wide ecosystem with local features, the "Program Committee" in embedded world will continue to invite Chinese and foreign scholars and experts, so as to provide expertise support for embedded world China Conference.

Professional service team dedicated to improve participation results
embedded world China has working groups from sales to on-site events, operations to visitor promotion, dedicated to provide exhibitors with personalized exhibition solutions through refined services, focusing on outstanding products and innovative technologies to further enhance the results of participation.

Optimized integration of marketing resources to maximize publicity
Through close cooperation with industry media partners, we integrate and deeply optimize the resources of existing channels to provide exhibitors with a comprehensive marketing plan before, during and after the exhibition to enlarge their branding exposure, seeking best matching with potential trade visitors and maximizing the efficiency.

embedded world China 2023
embedded world China 2023 aims to be professional exhibition in the embedded industry in China, with exhibits covering a wide range of embedded components, modules, applications and systems in the fields of Automotive Electronics, Artificial Intelligence (AI), Industrial Control Management, Internet of Things (IoT) and more. Professional technologies and products, as well as outstanding embedded companies in China can be found here.
The exhibition will bring together domestic and international associations and professional media from the embedded industry chain, which will provide a platform for cutting-edge and innovative technology exchange and product communication.
The show will be a platform for professional embedded products and advanced technologies to be presented to exhibitors and professional buyers, strengthening the international product display and technology exchange.
embedded world China 2023 will build an important platform for mutual cooperation between outstanding embedded enterprises in China, product communication between enterprises and overseas professional enterprises and media, and technical exchange between enterprises and associations and research institutes, so that face-to-face communication can create more value more efficiently.
embedded world China Conference 2023
A Program Committee consisting of experts from WEKA FACHMEDIEN GmbH, the Embedded Systems Branch of the China Software Industry Association and other authoritative institutions, together with speakers of high-quality papers, will present application technologies and solutions representing industry trends at the embedded world China Conference. Solutions, or new ideas and smart concepts for efficient development and lifecycle processes will be shared to help other engineers and product managers.